Purpose Driven Education & Consulting
Since 2010, Vienna, Austria & Mexico City, Mexico

SUSTAINABILITY TRANSFORMATION

BUSINESS CONSULTANT
SPEAKER & EDUCATOR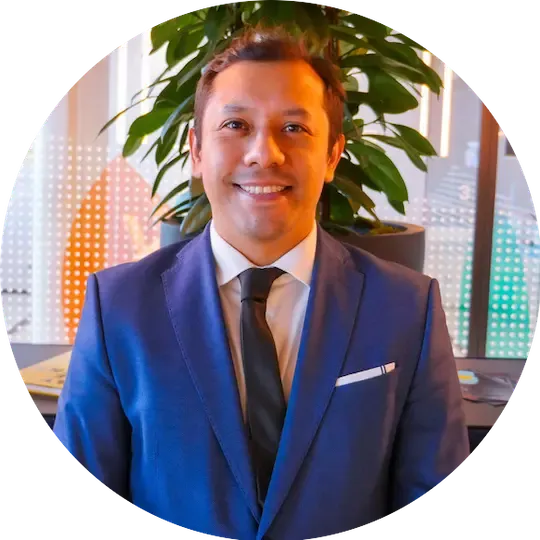 Let´s talk. Book a meeting
Time Zone: Central Europe. Kindly check your e-mail folders for confirmation.
"FASCINATING…"
Regional Academy on the United Nations
"CREATIVITY…"

The Times of India

"ADMIRING…"
Skoll - University of Oxford


"ENERGY…"
National University of Vietnam

ABOUT ME
"
"Sustainability Transformation is not longer a hippie movement, it is a 13 trillion business opportunity according to the UN & Impact investors."
For the last 15 years, I have been working with Leaders, Organisations & Businesses on the transition towards Sustainable Development. My expertise covers the following:

1. Business Opportunities in Sustainability: Business Modelling, Strategy, Branding, Marketing & Global Partnerships.

2. Sustainability Transformation: Towards high-quality products & services aligned with ESG practices.
3. Leadership Coaching & Education: Working with a new generation of leaders in sustainability.

I have designed and organised more than 100 conferences, workshops, summits, & courses related to sustainability & social innovation.
I have consulted more than 500 businesses & leaders across 10 countries about sustainability opportunities and transformation.
I have been awarded and recognised by top companies and organisations such as The Regional Academy of the United Nations, 1MillionStartups & The Ministry of Economy of Austria, Oxford University, The Climate Reality Project, ClimateLaunchpad, PCTE Group of Institutes (Ranked in the top 10 business school of India)



Son of indigenous people, I was born in Mexico, where I studied Law, Business and Economics; I consider myself a mix of constant creativity, brutal honesty, contagious passion, and a results-driven person, a result of more than 15 years of working around the world.


In 2010, while leading an activist movement for digital rights, I was forced to leave my country due to the Drugs Cartel War, this also allowed me to pursue my passion for understanding the world, and brought me to live and work in 13 countries across 4 continents: India, Vietnam, Thailand, Kenya, Rwanda, Morocco, Mexico, Czechia, Ukraine, Armenia, Spain, Germany, and Austria.
I am the founder & author of

2013. Latin American Leaders Awards. (More here)
One of the most recognised awards dedicated to Latin American Leaders working in sustainable & human development.

2016. The Social Innovation Box. (More here)
A powerful toolbox for team leaders, where I combine and pack the best of my field experience, tips, best practices and easy to use smart-tools for solving daily challenges.

2018. The Global School for Social Leaders. (More here)
A multi-awarded NGO specialised in designing purpose-driven education & consulting.

2020. Our Planet Awards. (More here)

A Global Alliance of Businesses & Organisations leading towards a sustainable future.
CONSULTORÍA
MI CAMPO DE TRABAJO
1. Diseño y Estrategia de PROGRAMAS EDUCATIVOS.
Diseño de consultorías, talleres y eventos internacionales en temas de sostenibilidad, innovación y liderazgo.
2. DISEÑO, COMUNICACIÓN & financiamiento DE NEGOCIOS SOSTENIBLES.

Estrategia de Comunicación, Diseño de Negocios, y Financiamiento para proyectos y empresas alineadas al desarrollo sostenible.

3. conferencias y capacitaciones:

Emprendimiento, Tecnología y Negocios alineados al Desarrollo Humano y Sostenible, Justicia Climática, Economía de la Felicidad y Bienestar.

LANGUAGES
Native Spanish
Fluent English
Intermediate German
REGIONS
Global
Latin America
Central Europe
FIELD OF EXPERTISE
Business 
Project Management
Instructional Design
Consulting & Education
Ed-tech
Branding & Communication
Leadership

Social Entrepreneurship
Sustainable & Human Development

industries
Businesses

Governments
Startups

International Organisations
© 2022 All rights reserved. https://TheGlobal.School
The Global School for Social Leaders
Lindengasse 56, 1070 Vienna, Austria